Automatic coating equipment to both sides edges for surface mount assembly line
• Automatic processing from coating to drying both sides edges of the substrate at the same time in about 15 seconds
• Corresponds to the substrate size up to 750 mm.
• It automatically applies liquid agent of any viscosity to printed substrate edges.
• Agent is applied clearly to the edge and does not ooze out to the surface.
• It corresponds to any size of substrates: thin or thick, small or big.

Edge masking specifications on aluminum substrates by Coating Agent
Substrates size

Width:

75 mm - 300 mm

Thickness:

maximum 2 mm

Conveying speed
10 - 15 M/Min
Heater temperature
Maximum 200 ℃ Transformer
Utilities

Electrical:

200 V AC 3P 340W

Air:

20 NL/ Min 0.5 Mpa clean air

External dimensions

Width:

1160 mm

Depth:

1020 mm "Conveying belt total length"

Height:

1440 mm

Pass line:

1000 ±20mm

Coating method
■Agent coating means
Substrate Coating Agent in the tank is lifted by the transfer roll, and then transferred to the coating roll. The agent transferred to the coating roll is adjusted to the coating thickness by the coating film adjustment gauge.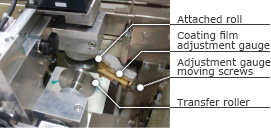 ■Alignment of substrates coming from
the previous process
Two rows of belts receive the substrate whose edges are detected by PH sensor. Then the substrate is adjusted to the optimum position to be conveyed to two coating rolls facing each other.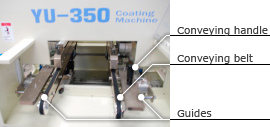 ■Drying heater section
When automatic operation starts, the heater turns on. When the substrate detection PH sensor at the equipment entrance detects the entrance of the substrate, hot air spouts to the belt heating section.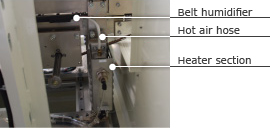 We will design and manufacture the equipment according to your substrate size, production line, and tact time, so please feel free to contact us.