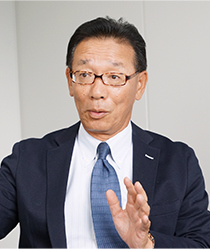 Top Message

We began from manufacturing mostly metal-processed parts. Since 20th century we keep responding to our customers' needs, employing the technology that we have cultivated over the years, especially in the production of aluminum die-casting and casting products used in automobiles such as engines and tractors.
As entering 21st century, we posted as our business philosophy "We aim to contribute to the society, upgrade the employees' quality of life, and to become a company worth working". For its realization we have drawn up a medium-term management vision; "challenge for creation, conquest of new products, and advancement in new technology". Under this vision we have developed the world's first Edge Coating Agent and Automatic Coating Equipment for electronic substrates. We care about what our customer needs. "If it doesn't exist in this world, we will create it." With this concept we will further accelerate our challenge for new markets.
We will continue to strive for developing attractive products; not the products which ends in dream but the products that function well, exploring all the possibilities to respond to the customers' needs at the same time to expand existing business. You can count on us, as ENATECH keeps challenging.